Cretaquarium (experimental aquaria)
Key research areas
Ecology and ecosystem management, Marine biodiversity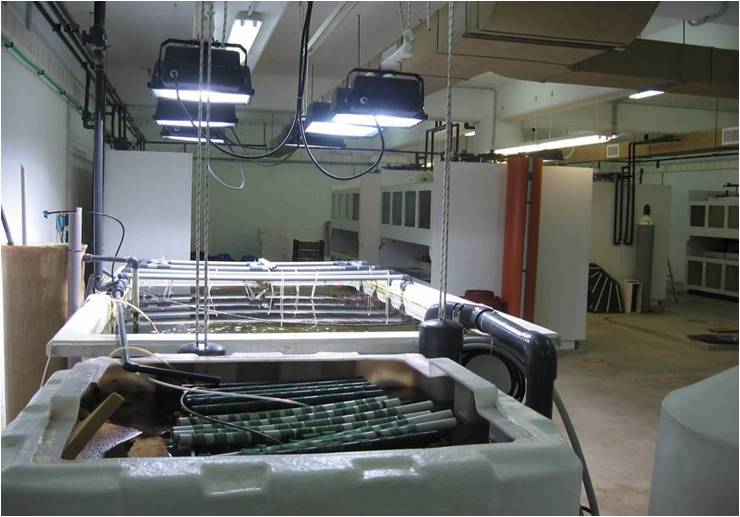 Quarantine areas
CRETAQARIUM's focus on Mediterranean biodiversity offers the ideal infrastructure for conducting marine research concerning living organisms. The aquarium's facilities include the use of tanks of varying sizes with controlled conditions for researching and observing the life cycle and behaviour of the hosted species along with the visitors' route and the quarantine area.
A very large part of this infrastructure is dedicated to the quarantine areas placed in the basement of the building. It is divided into cold (8-19°C) and warm water (19-25°C) areas, with autonomous tanks of 150 l and 300 l capacity (forage water) and controlled lighting conditions. These tanks, in addition to their main purpose of supporting the aquarium exhibition (animal adaptation and de-parasitization, production and maintenance of living feeds, the development of stocks of fish to an appropriate size, reproduction of animals e.g. jellyfish, clownfish etc.) are often used for experimental research on organisms of economic and/or ecological interest.
A significant part of the research activities concerns the allochthonous species introduced to the Mediterranean Sea, with emphasis on those whose arrival is linked to climate change and those which have an impact on local food chains. Special efforts are also made to take care of and study endangered and protected species such as invertebrates (marine snails, sea urchins, sea cucumbers, etc.), fish and sea turtles.
Climate change experimental tanks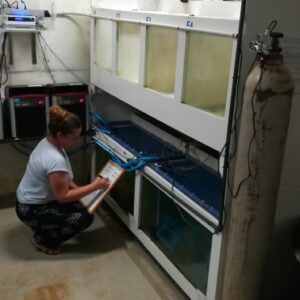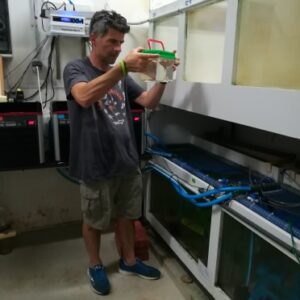 A set of experimental tanks hosted in Cretaquarium have been set up for the implementation of indoor controlled ecological experiments, mainly focused on climate change experiments ensuring the accurate control of seawater temperature and pH.  The experimental system is semi-closed and supplied with seawater pumped from the sea at 2m depth and left to settle in a sedimentation tank.  The supernatant seawater is UV filtered (AstraPool Heliox UV LP) before being supplied in the experimental tanks.  The system currently includes 4 large (300 l) tanks but has the potential to be extended to additional smaller (150 l) tanks.  Temperature and pH are controlled using an Aquarium Computer Complete Set GHL controller Profilux 4 equipped with individual temperature and pH electrodes for each experimental tank.
Temperature and pH can be controlled with an hysteresis resolution of 0.01 °C and are continuously monitored and recorded at regular intervals (measuring period between 1 min and 12 hours). Temperature adjustment is achieved using individually installed TECO 500TK heaters and coolers which are automatically turned on in order to reach the desired value.  The pH is reduced to the desired level using CO2 pumps automatically turned on through the Aquarium Controller and fully equipped with regulators, solenoid valves, diffusers and bubble counters.  Sufficient water circulation is ensured with submerged pumps and additional air supply (air stones).
Related Content
New publication: climate change experiments performed in the Cretaquarium experimental tanks facility
Chatzinikolaou E., Grigoriou P., Martini E., Sterioti A. 2019. Impact of ocean acidification and warming on the feeding behaviour of two gastropod species. Mediterranean Marine Science. 20 (4): 669-679. http://dx.doi.org/10.12681/mms.19187