On June 22 and 23, 2021, the new DASbox mini–Bioreactor System of Eppendorf was installed at the laboratory of Aquaculture Microbiology of HCMR in Crete. This system is unique in Greece but also in Southern Europe. It consists of 4 parallel, fully controlled bioreactors and is used to study microbial production. This system will be used to optimize the production process of bacteriophages that are viruses that infect bacteria and are used therapeutically and prophylactically to fight bacterial diseases as an alternative to antibiotics. 
DASbox is an important research infrastructure that provides great opportunities for the Institute's research teams to develop new biotechnology products.
The cost of the equipment is 100,000 euros and the funding was entirely from the Operational Program for Fisheries and Marine 2014-2020 in the framework of the Research Program "Biological control of pathogens in fish hatcheries using bacteriophages – OPS 5010932″ which is implemented by HCMR, the Agricultural University of Athens and the aquaculture company SELONTA SA.
During the installation of the equipment, the training of the laboratory staff was carried out by the technical scientists of Eppendorf who came from Germany.
---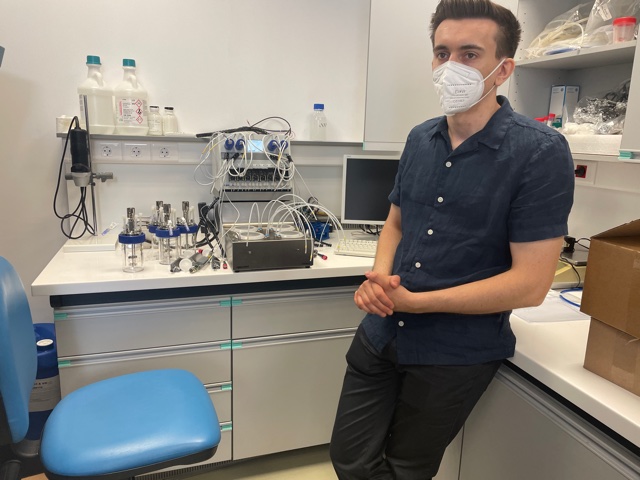 Στις 22 και 23 Ιουνίου 2021 πραγματοποιήθηκε η εγκατάσταση του νέου συστήματος παράλληλων βιοαντιδραστήρων DASbox mini Bioreactor System της Eppendorf στο εργαστήριο Μικροβιολογίας Υδατοκαλλιεργειών του ΕΛΚΕΘΕ στη Κρήτη. Το σύστημα αυτό είναι μοναδικό στην Ελλάδα αλλά και στη Νότια Ευρώπη. Αποτελείται από 4 παράλληλους πλήρως ελεγχόμενους βιοαντιδραστήρες και χρησιμοποιείται για την μελέτη της μικροβιακής παραγωγής. Το σύστημα αυτό θα χρησιμοποιηθεί για την βελτιστοποίηση των διαδικασιών παραγωγής βακτηριοφάγων που είναι ιοί που προσβάλουν βακτήρια και χρησιμοποιούνται θεραπευτικά και προληπτικά για την καταπολέμηση βακτηριακών ασθενειών εναλλακτικά των αντιβιοτικών. Το DASbox είναι μια σημαντική ερευνητική υποδομή που δίνει μεγάλες δυνατότητες στις ερευνητικές ομάδες του Ινστιτούτου να αναπτύξουν νέα βιοτεχνολογικά προϊόντα.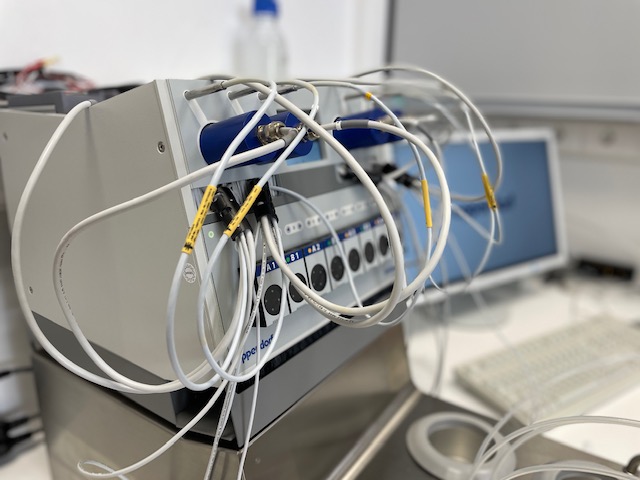 Το κόστος του εξοπλισμού είναι 100.000 ευρώ και η χρηματοδότηση ήταν εξ' ολοκλήρου από το Επιχειρησιακό Πρόγραμμα Αλιείας και Θάλασσας 2014-2020 στο πλαίσιο του Ερευνητικού προγράμματος «Βιολογικός έλεγχος παθογόνων σε εκκολαπτήρια ιχθύων με χρήση βακτηριοφάγων– ΟΠΣ 5010932» το οποίο υλοποιείται από το ΕΛΚΕΘΕ, το Γεωπονικό Πανεπιστήμιο Αθηνών και την εταιρεία ΣΕΛΟΝΤΑ ΑΕ.
Κατά την εγκατάσταση του εξοπλισμού πραγματοποιήθηκε και η εκπαίδευση του προσωπικού του εργαστηρίου από τους τεχνικούς επιστήμονες της Eppendorf που ήρθαν από τη Γερμανία.