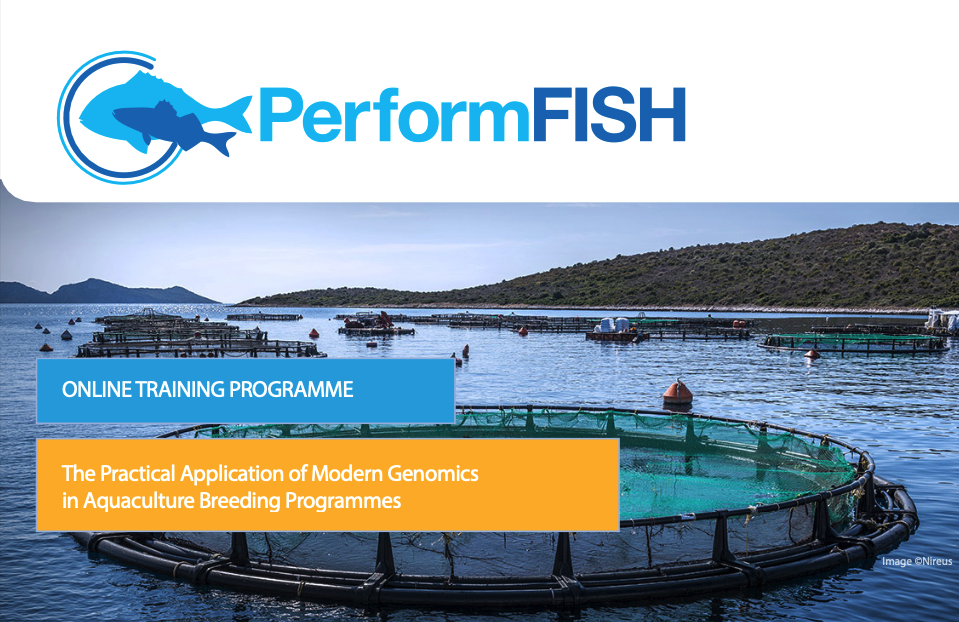 ONLINE TRAINING PROGRAMME
The Practical Application of Modern Genomics in Aquaculture Breeding Programmes
As part of its capacity building activity, PerformFISH has designed a training programme on the Practical Application of Modern Genomics in Aquaculture Breeding Programmes. This one-day remote training programme will be held on- line on April 8th 2022. The course will be based on a multidisciplinary integrated approach that will translate the outcomes of the PerformFISH project into actionable opportunities for the fin-fish aquaculture industry.
The one-day training session will consist of six training topics covering the basics of a modern genomic approach to selective breeding for efficiency traits (such as disease resistance and fillet yield) and how and why to implement these concepts in modern aquaculture farms. Attendees will have several opportunities for interaction with the speakers and to participate in dedicated question and answer sessions. The participants will also be provided with a case-study of European Sea Bass based on outputs from the PerformFish project.
The training course will be divided into three topics in the morning and three topics after lunch. The training is meant to be accessible to non-genomic experts and will be of high- relevance to any fin-fish aquaculture business currently running or who envisage establishing a breeding programme.
More info: Perform – FISH _ Genomics_Training_Agenda