Nutrition and biochemistry
Key research areas
Nutritional requirements, Feed ingredient evaluation, Feed formulation, Sustainable aquafeeds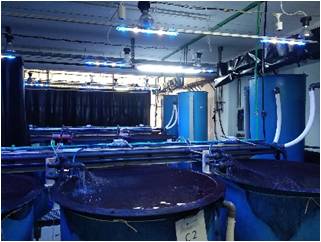 The institute operates fish rearing and analytical facilities in Crete and Anavyssos, near Athens.
For the studies of fish nutrition the infrastructure in Crete is equipped with:
44 indoor tanks (0.05, 0.2, 0.5, 17 m3) connected with Recirculating Aquaculture Systems (RAS) in which the abiotic conditions are fully controlled
6 outdoor tanks 5 m3
Self-feeders connected with sensors which record the fish feeding activity
Special tanks for the determination of nutrient digestibility coefficients for aquafeeds and feed ingredients
To support the in vivo growth trials the laboratory is coupled with analytical equipment such as nitrogen analyser, Bomb carlorimeter, Spectrophotometer, Speedvac, Fibertec, Centrifuge, Biochemical analyzer, Lyophilizer and more.
The IMBBC's analytical facility in Anavyssos is fully equipped with the most advanced scientific instruments for the determination of a large number of measurements in feeds, raw materials, food additives and fish tissues.
Spectrophotometers, Digestion and Distillation Units (Kjeldahl method), Soxhlet, Hydrolisis system, Centrifuges, Nitrogen analyser, Bomb calorimeter, Biochemical analyser Fibertec are the main instruments used to enable the determination of the  gross nutrients and physiological responses in fish.
The laboratory is also fully equipped with modern analytical instruments such as GC-MS, GC-FID, HPLC-MS, HPLC, HPTLC coupled with various types of detectors according to specific analytical needs.
Nutrient requirement determinations, such as for vitamins, essential amino acids, and ω3, ω6 fatty acids, fish quality and freshness of various forms of seafood, as well as detection of veterinary drug residues, are undertaken by our specialised personnel, in order to cover the requirements of our EU, national and international research projects, as well as to implement contracts with the aquaculture industry.
Αquaculture waste production associated with antinutrient presence in common fish feed plant ingredients. https://doi.org/10.1016/j.aquaculture.2018.06.003

Effects of long-term feed deprivation on body weight loss, muscle composition, plasma metabolites, and intermediate metabolism of meagre (Argyrosomus regius) under different water temperatures.

https://doi.org/10.1007/s10695-017-0451-3
Effects of high-level fishmeal replacement by plant proteins supplemented with different levels of lysine on growth performance and incidence of systemic non-infectious granulomatosis in meagre (Argyrosomus regius). https://doi.org/10.1111/anu.12814