Key research areas
Marine Biodiversity, Taxonomy, Paleontology, Geology, Icthyopathology, Biomedicine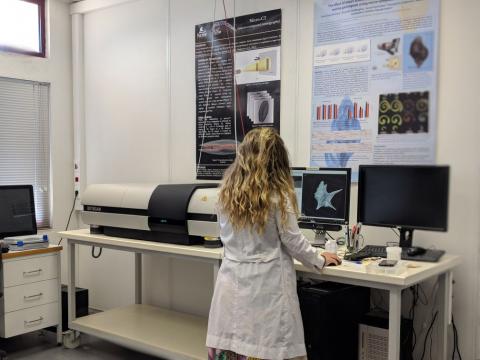 Micro-computed tomography (micro-CT) is a non-destructive imaging technique, which uses X-rays for the rapid digitisation of specimens in three dimensions. The ability of micro-CT to visualise the internal and external features of an object makes this technique a useful tool in a variety of biological research fields such as taxonomy and systematics, developmental research and functional morphology.
IMBBC has a Skyscan 1172 micro-CT scanner (Bruker, Belgium), which can be used to scan both hard- and soft-bodied organisms, but also fossils, materials and other small-sized structures. This microtomograph is offered as a service to external users in order to create 3D objects and to perform 3D analysis.
The scanner uses a tungsten X-ray source with an anode voltage ranging from 20 to 100 kV, 11 MP CCD camera (4000 × 2672 pixel) and a maximal resolution of < 0.8 μm/pixel. The maximum object size that can be scanned is 50mm in diameter. The scanning duration depends on the sample size and the selected scanning parameters (resolution, averaging frames, etc).