Marine Ecology & Biodiversity Labs
Key research areas
Coastal marine biodiversity and ecosystem functioning, Biodiversity hot-spots & extreme habitats, Environmental status of marine systems, Sustainability management, Recreational Diving Oasis with Artificial Reefs
Assessment of biodiversity and ecosystem functioning in the marine realm takes place by: (a) processing of biological samples including analysis and modelling at all levels of biological diversity (from prokaryotes to megafauna and from the individual to habitats and ecosystems) and scales of observation (spatial and temporal), (b) integrating the latest methods on marine biodiversity data management, analysis and dissemination, (c) proper workflows and virtual research environments, (d) advanced scientific knowledge, and (e) development of novel scientific and technological approaches and products.
Ecology and ecosystem management include protection and conservation of species and habitats as well as sustainable management of biological resources by:  (a) evaluating and monitoring of biotic and abiotic factors which are fundamental for marine ecosystem processes, (b) studying ecosystem dynamics and anthropogenic impacts such as climate change and pollution, (c) development of innovative  environmental technology.
Bioinformatics and biodiversity informatics deal with: (a) the analysis of genetic, genomic and other structural data, (b) the analysis and management of biodiversity data, (c) the support of holistic approaches to marine ecosystems and (d) the data-mining from scientific literature.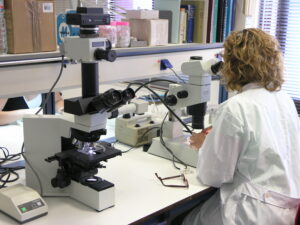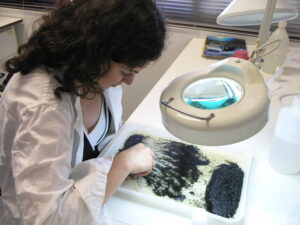 Laboratory equipment for
Sediment analysis: Mechanical sieve shaker for the processing of sedimentological material and water bath for pipette analysis (Responsible: A. Krystallas)
Taxonomy: (a) Microscopes and stereoscopes used for sorting benthic/environmental samples and identifying organisms, also equipped  with still and video facilities as well as image analysis software (Responsibles: W. Plaiti, E. Chatzinikolaou), (b) micro-CT scanner (Skyscan 1172), also linked to bioimaging (phenomics) facility, uses X-rays to create cross-sections of small organisms/objects (several microns to centimetres) in order to create virtual models without destroying the original organism.The MicroCT scanner can be used to scan both hard- and soft-bodied organisms, but also fossils, materials and other small-sized structures. (Responsible: K. Keklikoglou). 
Habitat mapping: Side Scan Sonar, underwater drone (BlueROV2), underwater photography and video equipment (Responsibles: C. Pavloudi, G. Chatzigeorgiou and E. Chatzinikolaou).
Ecological experiments:  
(a) The following equipment is currently installed in the Cretaquarium tanks and can be used to perform indoors controlled temperature and pH ecological experiments: GHL controller Profilux 4 (Aquarium computer complete set with temperature and pH electrodes), TECO 500TK heaters and coolers, CO2 pumps with regulator, solenoid valves, diffuser and bubble counter (Responsible: E. Chatzinikolaou).
(b) Experimental aquaria system: The Experimental aquaria system, installed in the main building of Thalassocosmos complex, consists of 12 units of different sizes ranging from 216 l up to 810 l of water (4,230 l in total). The system is designed to offer abilitιes for ex situ experimentation with marine invertebrates using automated subsystems that can regulate temperature, salinity and pH. A main challenge is the establishment of specific techniques for efficient small to medium culture of marine invertebrates with biotechnological potential.  Furthermore some of the aquaria can be used as holding tanks and/or quarantine tanks for marine organisms of scientific interest prior to experimentation or deployment at the Underwater Biotechnological Park (Responsibles: C. Dounas, G. Skouradakis). 
The system includes: (i) A 750-liter aquarium (150 x 120 x 45) with a 250-liter sump filter, (ii) 3 x 350-liter aquaria (100 x 60 x 60) sharing a 250-liter sump filter, (iii) 5 x 200-liter aquaria (60 x 60 x 60) sharing a 250-liter sump filter. These aquaria can also be used as stand-alone units without central filtration (sump). Each filtration sump performs the following operations: (i) Mechanical filtration via 100 – 200 μm mesh, which removes particles, (iii) DOM removal via protein skimming, (iii) Biological filtration with the use of Deep Sand Bed or Bioballs (substrate for bacterial colonies), (iv)Temperature regulation with the use of a heater and a chiller, (v) Salinity stabilization via automatic supplementation of fresh water compensating for evaporation, Ph stabilization via calcium reactor. The latter infuses automatically CO2 into a carbonate substrate, thus releasing Ca ions in the water and raising Ph values. All aquaria and sumps are equipped with T5 fluorescent bulbs (Daylight at 6000 oK and Blue light at 20000 oK).
The Marine Ecology & Biodiversity Labs are part of the Research Infrastructures CMBR (National), LifeWatch-ERIC (National), BioImaging and EMBRC-ERIC (EU)
The European ARMS programme is a network of Autonomous Reef Monitoring Structures (ARMS) distributed over Europe and polar regions. The aim is to assess the status of, and changes in, hard-bottom communities of near-coast environments.
http://www.assembleplus.eu/research/ARMS-MBON
 The MicroCTvlab was created in order to present and disseminate  micro-CT (micro-computed tomography) datasets through the framework of the LifeWatchGreece project.

New video produced by IMBBC for the Management Agency of Dodecanese Protected Areas! An Underwater Trail was established on Saria Island, within a natural reserve of high aesthetic value. The location encompasses a showcase of the most typical eastern Mediterranean marine ecosystems and rich biodiversity, from rocky reefs to seagrass meadows and marine caves.